When I moved back to Michigan fourteen years ago, I would have given anything to own a kitchen table. (Actually, any table, for that matter) In the last few months, I have stored many of my possessions, which makes me glum, including my beautiful oak kitchen table.
This table was my prized possession, and I honestly did love it. Doing my homework before purchasing it, pursuing the internet and researching all of the furniture stores in our area, window shopping in my spare time to look at different options, and saving to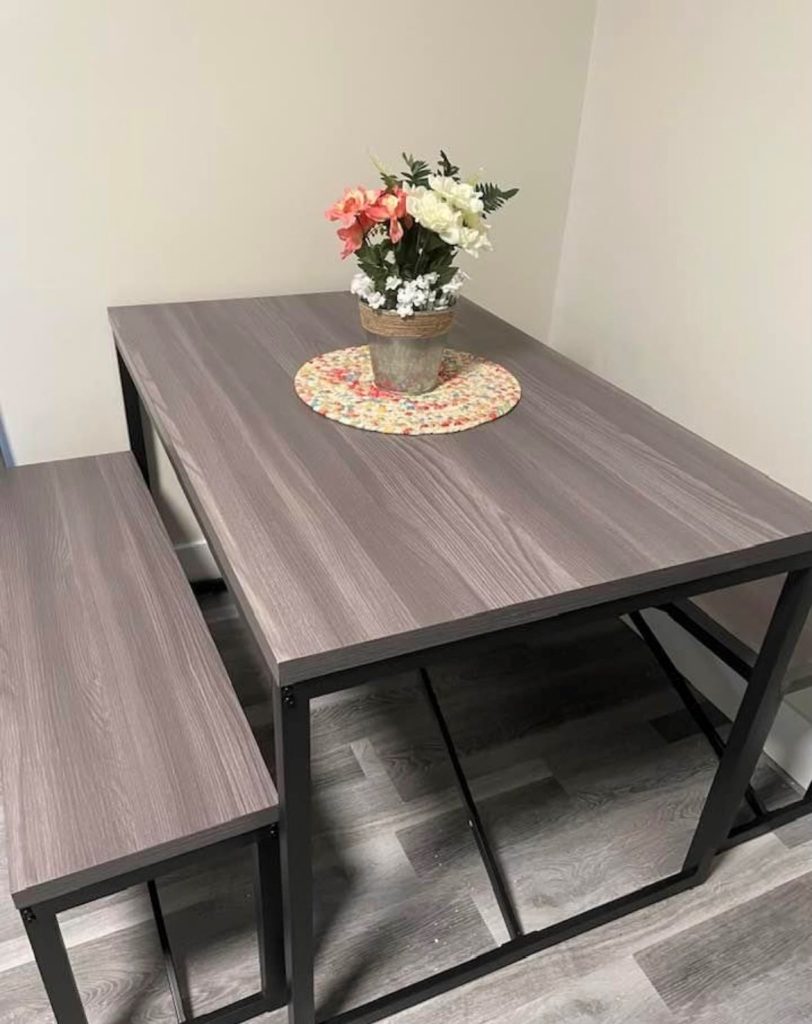 buy it with my own money just before Eric and I married. It meant a lot to me; it was sturdy, extendable, and ready to seat the family for holiday dinner parties. This table was more than just furniture; it was a piece of stability that I believed would anchor our home and marriage. Boy, how wrong could one be!
God was orchestrating a big transition for us, one that was improving the resources available to our youngest son with autism, and this was important to me. We were temporarily moving into a much smaller house, which filled me with sadness; I wasn't a happy camper. My husband Eric and I discussed moving the table into our rental home, and it just didn't make sense. The new kitchen in the rental was much smaller than the one we were leaving, and my table would take up too much space.
I was heartbroken (although this wouldn't affect our decision to move.) It was a done deal, and we knew God was moving our family north, giving us a new place to call home. It was also in God's perfect timing after all the dramatic changes our family had experienced in recent years.
Seeing how distraught I was, my mom comforted me by quietly reminding me it's a long way from the mind to the heart, and in this particular circumstance, I understood her sentiments entirely. Even though my mind understood the reasons to move, my heart had trouble catching up.
I had many unanswered questions, even though I was sure this was God's will for our life. I needed a reminder that we haven't stepped backward; sometimes, God stretches us before moving us forward to where he wants to grow and develop those deeper roots. I decided to take some time and ponder my mom's thoughtful words and delight in her wisdom.
It took some time and many tears on my pillow, but acceptance soon followed. The sun came out, and I could see the light of God shining down. Seeing my son improve by leaps and bounds was enough motivation to keep me moving forward, and for this, I am so thankful to God.
Even though we are still getting planted in Midland and trying to grow those roots, we have found a wonderful community here and feel we belong. The boxes are getting unpacked, and the shelving is going up, although my beautiful oak table is still in storage. I'm learning to accept that this change is for the good and stepping out of my comfort zone to enjoy the transformation.
We are embracing the new, and I'm starting to admire my small farmhouse table. It's cute, easy to clean, and tucks neatly into a kitchen corner. As a mom, it's a definite win in my book! I'm learning to adjust to our new way of life, something I've instilled in my children to do all along. I know God is using this move to mold our family (especially me) to cultivate us so we are ready for the pruning season when the time comes.
Isaiah 5:6
"I will lay it waste; It will not be pruned or hoed, But briars and thorns will come up.
I will also charge the clouds to rain no rain on it."